Training events
FURTHER INFORMATION REGARDING EVENTS PLEASE CONTACT
GILLIAN VYTHELINGUM - g.vythelingum

@q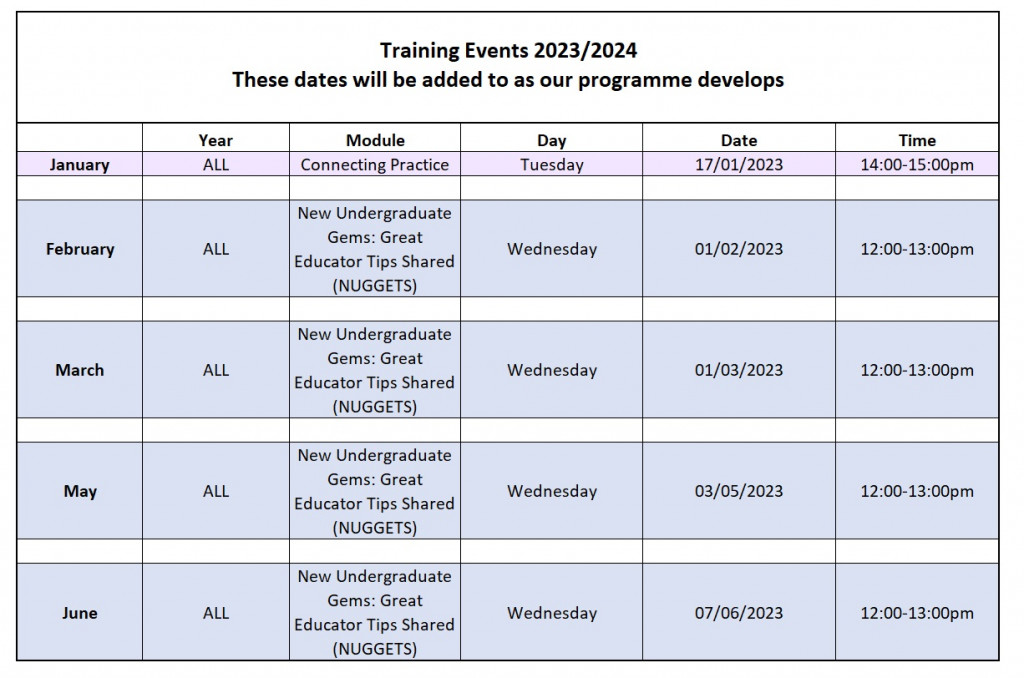 MODULE INDUCTION TRAINING: short workshops (1-2 hours)
-
one per module covering educational & technical aspects of creating
a sa
fe b
ut challenging learning environment
– please attend
ALL
relevant inductions
UPCOMING EVENTS
CONNECTING PRACTICE: MANAGING CHALLENGING SITUATIONS IN GP PLACEMENT SUPERVISION – monthly sessions (third Wednesday of month, 1 hour). An opportunity for GP tutors to develop skills and continuously improve their teaching practice through facilitated case-based discussion – including focusing on challenging situations in student supervision, developing and sharing best practice, and focusing on making sense of what might be going on for both the tutor and the students - please attend at least ONE session between Sept 2022 & Jan 2023
NUGGETS (New Undergraduate Gems: Great Educator Tips Shared) monthly sessions (first Wednesday of month, 1 hour). The sessions will be very interactive sharing in small and large groups. Each month will have a theme and a practical focus.
PAST EVENTS:
INTRODUCTION TO TEACHING - This training is open to GPs in the North East London area who are new to undergraduate teaching or those who would just like an opportunity to refresh their knowledge. It will provide attendees with basic skills to prepare students in the community, covering: What makes a great teacher, Creating a great feedback environment, Induction planning. (September-October 2022).

We Are Delighted To Invite You To Register Online For Restoring Hope: *Virtual* CBME Spring Education Event (2pm - 5pm) & Deep End Celebration (5pm – 6pm), Which Will Be Taking Place Online On Wednesday 24th February 2021. - Workshop Descriptions
CBME GP Tutor Summer Education Day (Format Tbc) - Friday 2nd July 2021.


Last modified: Thursday, 15 December 2022, 11:16 AM