Intellectual Property, Copyright, and Licensing
5. Creative Commons Licences
Creative Commons is a non-profit organisation that enables the sharing and use of creativity and knowledge through free legal tools.
Their copyright licences provide a simple, standardised way to give the public permission to share and use an author's creative work — on conditions of the author's choice.  CC licenses let the author easily change their copyright terms from the default of 'all rights reserved' to 'some rights reserved'.
Creative Commons licences are not an alternative to copyright.  They work alongside copyright and enable the author to modify their copyright terms to best suit their needs.  For more information, check the Creative Commons website.
Below is a summary of the Creative Commons Licences: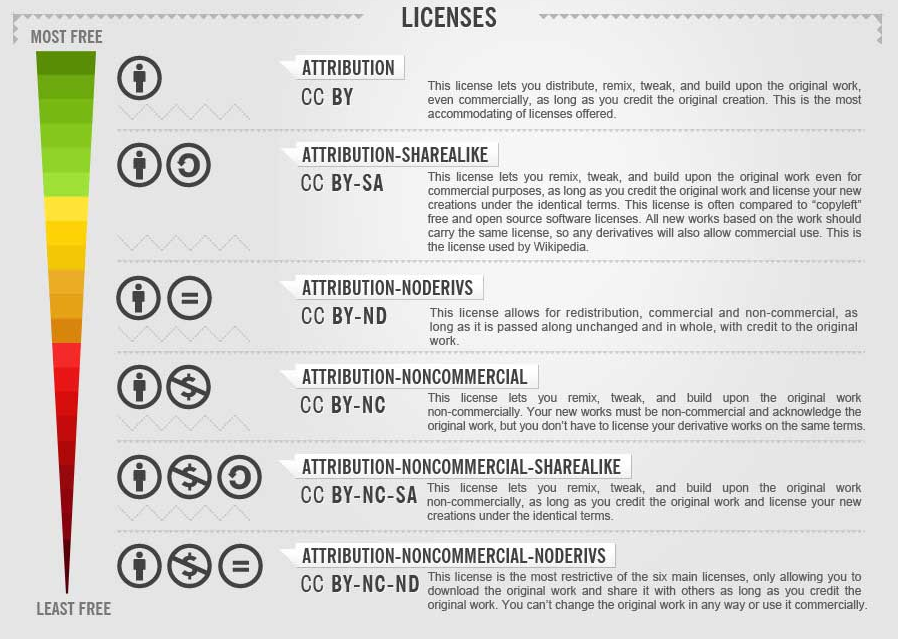 Image copyright © 2013 Foter Blog at http://foter.com/blog/files//2012/11/Foter.com_infographic_CC.jpg
Summary
Creative Commons Licences allow you to give permissions to others to use your copyrighted work.
RCUK and The Wellcome Trust funded researchers must publish their work with a relevant Creative Commons Licence, specifically CC BY for the paid or CC BY-NC (or the equivalent) for the self-archiving route, so that others can use and build on these work.